Strange Engineering Lightweight Rear Drag Brakes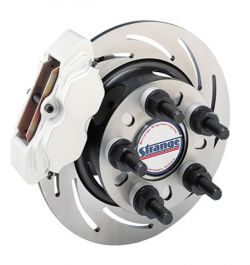 Click Image for Larger View
$595.00
SKU #: STR-B1708WC
Brand: Strange Engineering
Description

Application: Early Big Ford Housing Ends
Ultimate stopping power for your race car!

These Strange Engineering Pro Race rear brake kits give you real stopping power. Strange started with their one-piece slotted forged steel rotors, which minimize distortion and offer weight reduction.
Then they added billet aluminum four-piston calipers and metallic brake pads to maximize brake performance.
The included custom-designed billet aluminum caliper mounts eliminate the need for spacers, and all necessary Grade 8 mounting hardware is included for easy installation. Entire rear brake kit weighs only 23.7 pounds!
Tech Note: Will not fit OEM rears. This kit is designed for an Early Big Ford housing end (ie. Strange 12 Bolt, Stange Dana 60, Moser 12 Bolt, Moser Ford 9", etc.). Also available for other housing ends such as Small Ford, etc., call for these applications.
If you bought an aftermarket rear and had it built with Early Big Ford housing ends, then you are set up to install this brake package.
Order these brakes at the same time as you order your rear from us and we'll have it built for plug-n-play installation!
NOTE: These are DRAG RACE brakes and not designed or intended for street driven vehicles.