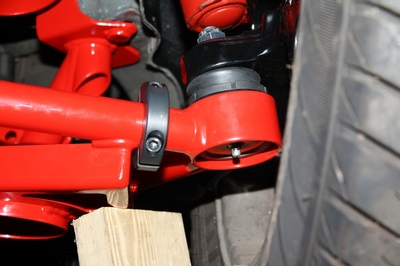 Application: Tubular Front Lower A-Arms with 1.25″ o.d. Rear Tube
Our clamp on steering stops provide a simple and easy to install solution to your aftermarket a-arm steering stop needs. Our steering stops feature a two piece bolt together design that allows you to slide them over the rear tube of your tubular front lower a-arms, line them up with the steering stop on your spindle and then simply bolt the two halves together over the tube for a strong and secure steering stop.
They will work on Spohn Performance's tubular front lower a-arms for the 1982-1992 GM F-Body, 1978-1987 GM G-Body and the 1982-2003 GM S-10 (2WD). They will also work on any other brand aftermarket tubular lower a-arms that have a 1.25″ o.d. rear tube.
Sold Per Pair — Qty. 1 = 1 Pair
For more details click here