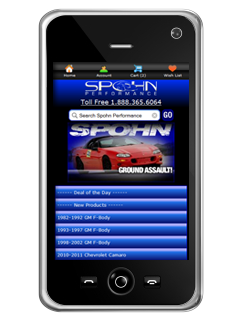 Spohn Performance launches a mobile phone friendly eCommerce website! Now it's easy to gather information or shop online when you're on the go.
Our new mobile phone friendly website is built using the latest HTML5 technology making it easy to browse and shop when you're on your iPhone, Android, Windows Phone, Blackberry, Nokia, etc.
We even included a HTML5 video player that allows for seamless video playback on any mobile device (yes, even Apple!).
The mobile website accepts all payment options, including PayPal's mobile checkout, for easy mobile payments.
There is no need to enter a different url, just surf on over to www.spohn.net and our system will automatically detect that you're on a mobile device and serve up our mobile friendly website. If you have any feedback on ways we can make our mobile website even better, we'd love to hear from you!