It's no mystery that lowering front end weight and adding adjustability without sacrificing strength and support are critical in building an all motor drag-strip-friendly F-Body. We had gotten to the point in our "All Air" Project Camaro car build where we need to shore up the car's steering while putting the car on a serious weight reduction diet.
Spohn Performance joined the "All Air" party with their Pinto manual rack and pinion kit for 1993 to 2002 GM F-body Camaro and Firebird, along with some lightweight yet durable suspension components.

Putting our project car on a Slim-Fast program to carve off some serious weight from the nose of the chassis called for some true drag race engineered components. Steve Spohn, President of Spohn Performance, explained that their Pinto manual rack and pinion steering kit would provide that significant weight reduction and still maintain ease in steering. "It's an extremely light setup that drops some serious weight by removing the power steering pump, lines, cooler and heavy stock rack, plus it frees up a lot of room and cleans up the engine bay," said Spohn.
Spohn's Pinto manual rack and pinion kit comes in four different variations. There are steering kits available for the stock K-member, Spohn's tubular K-member, other aftermarket K-members with factory stock steering mounts and aftermarket K-Members with Pinto manual rack and pinion mounting. According to Spohn, "the kits come complete with everything you need to install the Pinto manual rack and pinion steering kit."
With the goal of getting off some unnecessary weight and making some room in the engine bay, we ordered Spohn's Pinto Manual Rack & Pinion Steering Kit (Part #MR), Spohn Performance tubular K-Member for 1993-2002 GM F Body (Part # 704) and Spohn's Tubular Front Lower A-Arms with Del-Sphere Pivot Joints (Part #745) to get the job done. In addition to a big drop in overall weight, we also stood to gain less flexing in the chassis components and no power steering pump to draw power from the engine. We called this a win-win-win proposition.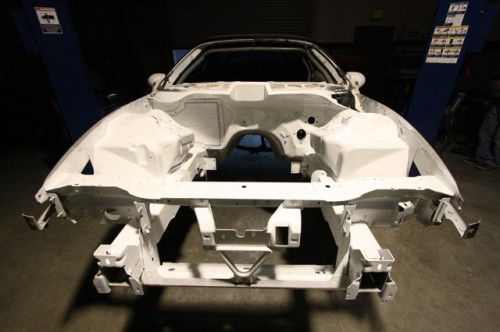 "All Air" is prepped and ready for new front suspension components.
The front end of our project was stripped in anticipation of the installation of the new components and Sean, our shop dawg, took advantage of the empty compartment to touch up the entire engine bay. There's not too many things worse than putting shiny new racing components in a grimy engine bay. An afternoon with some Simple Green and a few passes with some white rattle can paint and the engine bay was clean enough to put our Spohn components on.

Spohn's tubular K-Member and Pinto rack and pinion steering kit ready for installation.
The parts arrived and we could see exactly what Steve Spohn had described to us "The Pinto manual rack and pinion steering is a brand new piece and not remanufactured. Every piece is all new." And best of all was the feature that we always like to see; it's a direct bolt in replacement without a ton of fitting, filing and massaging to get it to fit.
Features of the Spohn Pinto manual rack and pinion steering rack:
Direct bolt in replacement.
Over-sized rod ends for the input shaft.
Chromed center tube for a trick appearance.
Tie rod end to spindle adapters are CNC machined from 4140 chrome moly and are machined to be a direct bolt on to the GM spindle taper.
5/8" chrome moly Teflon lined rod ends with 5/8" chrome moly safety washers top and bottom for adequate articulation and safety.
silver zinc plated 4140 chrome moly hex tie rod adjusters for strength and durability.
Installation
Sean started by installing the tubular K-member first. This would be the foundation that everything else would mount to, so it needed to be a rugged component. It's obvious that Spohn Performance dedicated a lot of time into the design and engineering of the F-Body Camaro Tubular K-member and it shows in the build quality of the finished piece.
We opened up the box containing the tubular K-member and our eyes immediately went to the construction of the tubular frame. At every point where the tubes intersected, gussets were added to ensure the K-member was rigid and flexing would not be a problem.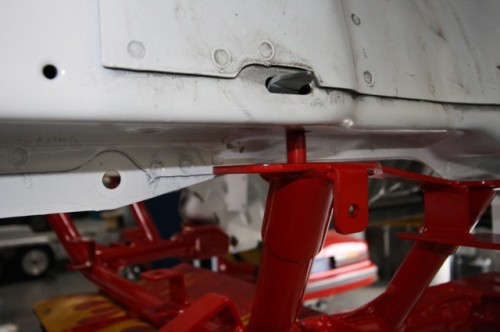 The locating pins on Spohn's K-member make it a snap to mount the component correctly.
Installing the K-member was a piece of cake for us because the drivetrain was removed from the vehicle. In addition to being able to thoroughly clean the engine bay, it's nice to remove the old K-member without having to worry about supporting the engine and working under the car with all that weight suspended above you.
Features of Spohn's tubular K-member:
1.50″ x .120″ wall DOM tubing – formed one piece front hoop
1.50″ x .120″ wall DOM tubing A-arm mount tubes
1.25″ x .120″ wall DOM tubing rear support tube
OEM style button head locating pins
CNC laser cut 3/16″ steel gussets in over 20 locations for maximum strength and durability
CNC laser cut and formed 3/16″ steel a-arm mounts, solid welded inside and outside. Outside welds are sanded smooth to allow for a flush fit to the car, eliminate stress risers, and provide a clean and smooth professional appearance
All A-arm mounts are gusseted front and rear for side load strength. The slots have been lengthened to provide more A-arm adjustment over the stock K-member. Recessed passenger's side rear A-arm mount to provide clearance for long tube headers. Rear A-arm mount boxes are offset bent just like the factory K-member for factory exact fit and finish
CNC laser cut and formed reinforced 3/16″ steel rack mounts
Welded in a special built rotary jig to insure an exact fit and allow for precision welds entirely in the flat position
Includes (6) new 12mm Grade 10.9 K-member mounting bolts and heavy flat washers
Includes (8) new flanged head motor mount bolts and flanged head steel lock nuts
Includes all five brake line mounts and new brake line mounting tab bolts and nuts.
LSx motor mount pads allow for the installation of any LSx based engine (LS1, LS2, LS3, LS6, LS7, etc.)
Durable and brilliant powder coated finish in a choice of red or black.
Spohn's K-member lined up with the chassis easily using the locating pins that guide the K-member into place. Once the K-member was positioned correctly in the chassis, it was simply a matter of tightening six bolts to secure the piece in place. Since Spohn designed the K-member to use factory locating and mounting points, it's literally impossible to get this wrong – it goes in just like the stock one came out.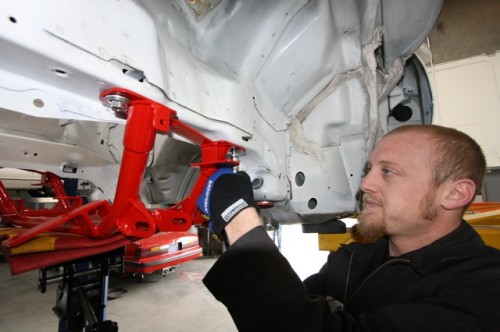 Installation of the K-member is simply a matter of tightening six bolts.
With our foundation laid, Sean moved on to installing the front tubular lower A-arms. Once again we were starting with a clean slate because the stock K-member had been removed, so Sean had no previously etched mounting bolt alignment marks to work with. A trip to the alignment shop would be in order as soon as the engine was re-installed.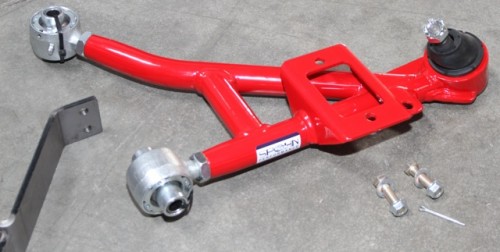 Spohn tubular lower A-arms with mounting hardware.
Installing Spohn's Tubular Lower A-Arms
Installing the lower A-arms was simply a matter of positioning the new arms into the K-member's A-arm mounting pads. The K-member's A-arm mounting slots were noticeably larger than the stock mounting slots for the mount bolts, which gives the A-arms tons of room for adjustment.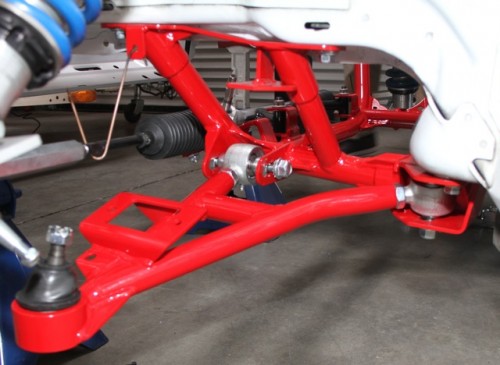 The lower A-arms feature Del-Sphere pivot joints with Delrin for shock absorption and a spherical bearing that allows for 28 degrees of rotation.
Sean mounted the A-arm initially without the shock and spring assembly to check the full range of motion for binding. Confident that there were no problems, he continued to install the A-arm with the shock and spring assembly mounted to the arm.
Once the right and left lower A-arms were installed completely, with the shock and spring assembly mounted, Sean attached the spindle and rotor to each A-arm in preparation for installing the Spohn manual Pinto rack and pinion steering kit. Once the spindle and rotor assembly were installed on each A-arm, he finished this part of the installation by plugging in the ABS sensor and routing the wire harness along the back of the A-arm.
Features of Spohn's tubular lower A-arms:
1.25″ x .120″ wall seamless DOM tubing
Ball joint cups are CNC machined from 2.75″ o.d. x .375″ wall seamless mechanical tubing
Spohn precision greasable ball joints (installed)
3/4″ chrome moly spherical rod ends with Teflon self lubricating race
Rod ends allow additional alignment adjustability
TIG welded 4130 chrome moly threaded tube adapters
CNC machined through sleeve and zinc coated steel spacers keep rod ends perfectly centered inside of the k-member mounting brackets
CNC cut and formed 3/16″ shock mount
Formed .125″ sway bar end link mounts
Durable and brilliant powder coated finish
Grade 8 shock mounting hardware included
Fully assembled and ready to install

The Pinto manual rack and pinion steering trims off lots of front end weight and parasitic engine drag.
Before moving on to the rack and pinion installation, Sean went back to each bolt on the K-member and A-arms to double check for proper installation and tightness. When every fastener was checked, we began with the installation of the Pinto manual rack and pinion steering rack.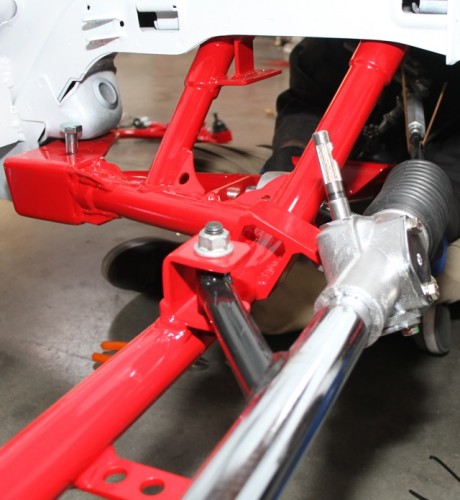 The steering kit has a tight gearbox with a quick 3 3/4 turns from lock to lock.
Spohn's Pinto rack and pinion steering rack has a lot of advantages; among them is the aggressive gearbox that gives smooth ease in steering of our lightweight Camaro. Steve Spohn explained that the rack travels, "3 and 3/4 turns from lock to lock", ensuring a decent steering response without having to muscle the steering wheel.
Installation of Spohn's Pinto Manual Rack and Pinion Steering Kit
Installation of the rack and pinion unit is pretty straight forward, much like any steering rack. Two bolts hold the rack in place on the K-member mounting pads and the rod ends attach to the spindle. There are several options for installing this steering kit, depending on which K-member you are using with the kit.
Spohn's Pinto manual rack and pinion steering kit comes complete, even with the steering shaft to connect the rack to the steering wheel linkage. "We use Flaming River's low profile, chrome moly, needle bearing U-joints to connect the steering shafts. These are set to length and TIG welded in place so you don't have to worry about set screws coming out" said Spohn.
Another trick feature of the Spohn Steering kit is the included bump steer components. "Our bump steer kit features hex tie rod adjusters, made out of 4140 chrome moly and zinc plated, with 5/8″ Teflon lined, chrome moly rod ends.  This kit allows for free articulation for performance, adjustability and the components stay quiet and last a long time," added Spohn.
Steve Spohn explained that upgrading the suspension components meant that we needed to have the car aligned to factory specs. We knew that the car would head off to the alignment shop, but we took the time to center the steering rack and measure the adjustable rod ends for equal length as a starting point.
Performance factory specs for 1995-2002 Camaros (except the 1995-1996 models with Goodyear Eagle RSA tires)
Camber: 0.40° ± 0.50°.
Caster: 4.80° ± 0.50°.
Total toe: 0.00° ± 0.20°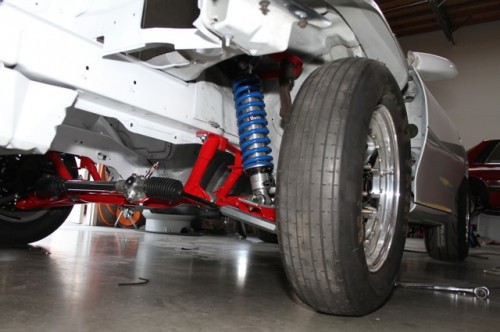 With the K-member, A-arms, and manual rack installed, our front drag suspension is complete.
What's Up Next?
We're pretty stoked about the front suspension upgrades from Spohn Performance. Everything was easy to install, and well built with lighter weight and strength that the factory components could only dream of. We're now one step closer to getting our All Air project car to the track.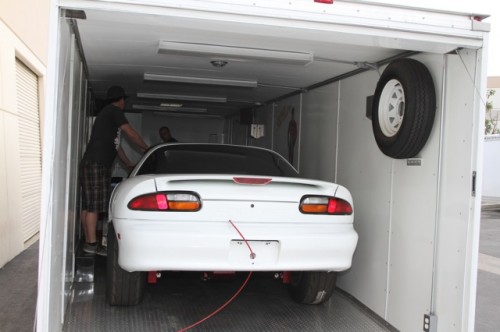 With the suspension complete, the Camaro is heading out to Lemons Headers for custom made headers.