Adjustable Bump-Steer Spindle Adapter for GM Spindle Taper
SKU# BSSA1 (Product Page Link)
This is the 4140 chrome moly spindle adapter only for those that are building a bump-steer kit for custom applications or those who have purchased a bump-steer kit that requires drilling out the spindle.
Many bump-steer kits on the market do not come with a spindle adapter that is machined to be a direct fit to the GM spindle taper but rather simply come with a 5/8″ bolt and you have to drill out the spindle's tapered hole to 5/8″. We understand no one wants to do that so we now offer just our bump-steer spindle adapter that you can then use with your existing bump-steer kit.
Altering ride height can result in unwanted toe change during suspension travel. This is known as bump-steer. Bump-steer kits allow the user to alter the outer tie rod position on the spindle to correct bump-steer.
This bump-steer spindle adapter comes with two 5/8″-18 RH jam nuts, one 7/16″-20 RH top lock nut and two 5/8″ safety washers. Our spindle adapters do not require you to drill out your spindle hole. Our bump-steer spindle adapters are CNC machined from 4140 chrome moly and are machined to be a direct bolt on to the GM spindle taper. They feature a silver zinc plated finish for durability and a nice appearance.
They are on the car bump-steer adjustable. The bump steer spindle adapters are fully threaded with double locking jam nuts for easy up-down adjustment that eliminates the need for spacers. They feature 5/8" chrome moly safety washers that go on the top and bottom of your 5/8″ rod end for adequate articulation and safety.
Specifications:
Fits GM spindle taper
Lower stud is 5/8″-18 RH threaded x 3″ long providing ample adjustment range (can be trimmed to length for wheel clearance). Two 5/8″ jam nuts are provided
Designed to be used on a 5/8″ bore rod end on your outer tie rod end
7/16″-20 RH upper stud threads (lock nut provided)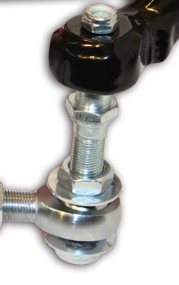 .