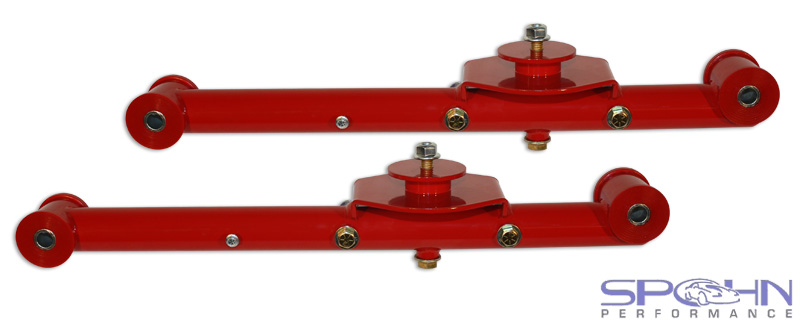 Tubular Rear Lower Control Arms with Polyurethane Bushings
1965-1970 Chevrolet Impala, Caprice, Biscayne & Bel Air
SKU# 251 (Product Page Link)
Replace the factory's weak and flexible rubber bushed rear lower control arms on your 1965-1970 Chevrolet B-Body Impala, Caprice, Biscayne, Bel Air, etc. with our heavy duty tubular units!Our tubular rear lower control arms provide for serious handling performance and greatly increase the rear end's fore and aft stability.
After more than 45 years of use the factory rear lower control arms are corroded and the rubber bushings are cracked and dry rotted which adversely effects the performance of your car.
Improve your ride quality, reduce body roll, eliminate wheel hop and increase traction with an easy bolt on installation. All ends are fitted with grease fittings for easy lubrication of the fluted polyurethane bushings.
Specifications & Features:
CNC laser cut 1.75″ x .120″ wall DOM tubing
CNC laser cut and formed 3/16″ steel coil spring seats
0.875″ x .156″ wall DOM tubing spring retainer mounting bolt through sleeve TIG welded in place to handle the most severe abuse
0.875″ x .188″ wall DOM tubing sway bar mounting bolt through sleeves TIG welded in place to handle the most severe abuse
Stronger, yet lighter than stock
Polyurethane bushings (fluted) with grease fittings for easy lubrication
Includes integrated E-Brake cable mounts just like the factory control arms
Reuses OEM mounting hardware, no need to drill out your mounting brackets
Includes new mounting hardware for the spring retainer, E-Brake cable and sway bar
100% bolt in installation
Available powder coated in your choice of bright red or gloss black for a brilliant and durable finish
Priced per Pair — Qty. 1 = 1 Pair
Note: Fits Chevrolet B-Body cars only.
Check out all of our performance suspension components for 1965-1970 Chevrolet Impala, Biscayne and Bel Air by clicking here.
.