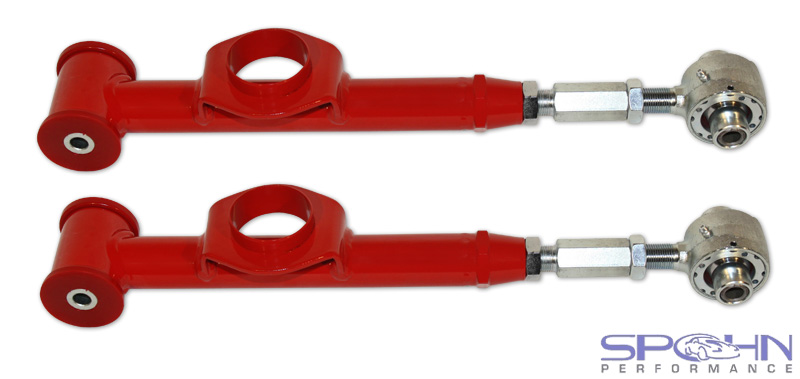 Adjustable Rear Lower Control Arms | 1979-2004 Ford Mustang
SKU# M4-207-7998 (1979-1998 Ford Mustang & Fox Body Cars) – Product Page Link
SKU# M4-207-9904 (1999-2004 Ford Mustang) – Product Page Link
These combo ended adjustable rear lower control arms will wipe out most bind, yet keep the road noise increase minimal for a street driven car.
The Del-Sphere pivot joints provide for "bind-free" handling performance. They will work best when combined with our SKU# M4-605 Del-Sphere pivot jointed adjustable rear upper control arms.
Build Specifications:
1.50″ x .120″ wall DOM tubing
CNC laser cut and formed 3/16″ steel spring perches
3/4″ Del-Sphere pivot joints on front mounts
CNC machined through sleeve and silver zinc plated steel spacers keep the Del-Sphere ends perfectly centered inside of the vehicle mounting bracket
Polyurethane bushed (fluted) ends equipped with grease fittings for easy lubrication
Right hand and left hand threaded male/female CNC machined 4140 chrome moly double adjuster allows for easy on-car adjustment
TIG welded 4130N chrome moly threaded tube adapters
100% bolt in installation – Ships to you jig set at OEM length
Available powder coated in your choice of bright red or gloss black for a brilliant and durable finish
Fitment Note: These adjustable LCAs do NOT have any provisions for mounting a factory style rear sway bar. These are race inspired rear lower control arms that should be used in conjunction with an aftermarket rear sway bar or anti-roll bar that does not mount to the rear lower control arms.
Check out all of our performance suspension components for the 1979-2004 Ford Mustang and Fox Body cars by clicking here!