Front Lower & Upper Control Arms for the 2003-2011 Dodge Ram 4×4 2500 & 3500

SKU #D03-202 – Front Lower Control Arms for the 2003-2011 Dodge Ram 4×4
SKU #D03-602– Front Upper Control Arms for the 2003-2011 Dodge Ram 4×4

The Spohn Performance boxed front upper and lower control arms for the 2003-2011 Dodge Ram 4×4 2500 and 3500 outperform the flexible, stamped steel control arms and soft rubber bushings that come from the factory. Eliminate wheel hop, steering wander and increase traction with an easy bolt on installation. All ends are fitted with grease fittings for easy lubrication of the fluted polyurethane bushings. Available powder coated in your choice of bright red or gloss black for an attractive and durable finish.
Our boxed front control arms are constructed from 2.00″ x 1.50″ x .120″ wall rectangular mild steel tubing, and are 100% TIG welded for the ultimate in strength and appearance.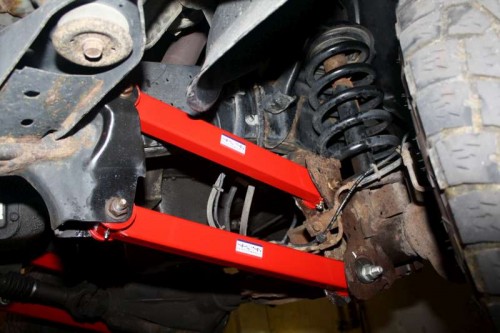 See all of our 2003-2011 Dodge Ram 4×4 Suspension Parts at the following link:
2003-2011 Dodge Ram 4×4 2500 & 3500 Suspension Parts

.