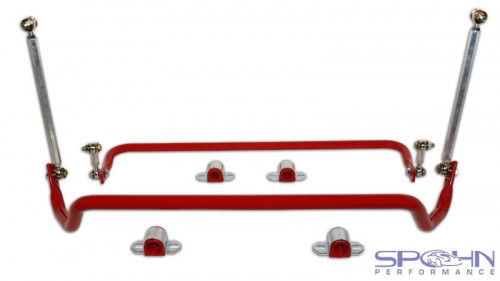 2010-2011 Chevrolet Camaro Competition Sway Bars Set
Visit the Product Page Online – SKU #C10-SBK2
Our competiton sway bar set is for drivers who are looking for aggressive handling performance for AutoX, road race and corner carving maximum street handling.
The 2010+ Chevrolet Camaro suffers from significant understeer and body roll. Spohn Performance competition sway bars are the single biggest handling improvement you can make to your Camaro! Our competition sway bars dramatically reduce body roll and wheel hop while increasing cornering capability and steering response, the perfect combination for tuning a car to reduce excessive understeer. Don't skimp on the foundation of your suspension!
Spohn competition sway bars are larger & stronger 32mm (1.25″) diameter matched front and rear. We combine our 32mm lightweight tubular front sway bar with our 32mm solid 4140 chrome moly competition rear sway bar to reduce body roll and provide predictable handling (matched sizing for balanced handling). Compared to the factory's (SS) .900″ front and .865″ diameter rear sway bars our competition sway bar set really puts the Camaro "on rails", it's a night and day difference in handling performance. Our competition rear sway bar's three end link attachment points allow you to dial in the way the car responds to throttle steer and driver input. This is the same set-up we run our our daily driver "Project 10″ 2010 Camaro and the handling performance is phenomenal!
Our tubular front sway bar is one piece CNC formed from ST52.3 DOM alloy steel. This alloy material provides a tensile strength of 85,000 psi and a yield strength of 75,000 psi providing for an extremely strong, yet lightweight tubular sway bar. Our front sway bar is 1.25″ o.d. x .250" wall.  Our competition rear sway bar is made from 32mm solid 4140 heat treated spring grade chrome moly steel. The bar is entirely heat formed and coined as one piece. We put our bar through this extensive process to insure that the final product will be the strongest, most durable bar on the market, and that it will be the most resistant to form alteration. The coins are hot pressed in one operation for a seamless and extremely strong end link connection. Unlike the stock sway bars and many from our competitors our sway bars are sealed from water and debris.
Our competition sway bar set includes fluted polyurethane bushings with silver zinc plated bushing shells. The sway bars also include chrome plated shaft collars that lock in the bar's lateral position to prevent any side to side movement. The entire assembly is a 100% bolt-in installation. Sway bars are available powder coated in bright red or gloss black colors for a brilliant and durable finish.
End Links: Our sway bars can be used with the factory end links or you can choose to add our Extreme Duty end links for the ultimate in adjustability, strength and handling performance; make your choice in the option box.
Specifications:
32mm (1.25″) diameter x .250″ wall CNC bent lightweight alloy steel tubular front sway bar
32mm (1.25″) diameter solid 4140 heat treated spring grade chrome moly steel rear sway bar – three-way adjustable for stiffness tuning
Fluted polyurethane bushings with silver zinc plated bushing shells included
Chrome plated clamp-on shaft collars included to keep the sway bars' lateral positioning locked
Durable and brilliant powder coated finish in your choice of the above colors
100% direct bolt in installation – no drilling or modifications required!