Adjustable Rear Upper Control Arms with Polyurethane Bushings - 1961-1964 Full Size Oldsmobile "88"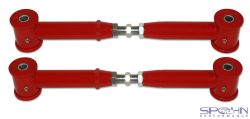 Click Image for Larger View
$195.00
SKU #: 6164FSO-604
Brand: Spohn Performance
Description
Application: 1961-1964 Full Size Oldsmobile "88"
Our adjustable rear upper control arms for the 1961-1964 full size Oldsmobile Dynamic 88, Super 88 and Jetstar 88 cars outperform the flexible, stamped steel arms and soft rubber bushings that come from the factory.
Eliminate wheel hop and increase traction with an easy bolt on installation!
These control arms are constructed of precision MIG welded 1.50" diameter x .120" wall DOM tubing and all ends are fitted with grease fittings for easy lubrication of the fluted polyurethane bushings.
The adjustability feature allows for setting the pinion angle. Our right hand and left hand threaded silver zinc plated CNC machined 4140 chrome moly double male stud adjusters allow for easy on-car adjustments, no need to unmount the control arm to make adjustments!
Available powder coated in your choice of the above colors for a brilliant and durable finish.
Build Specifications:
Precision MIG welded 1.50" x .120" wall DOM tubing
Polyurethane bushed (fluted) ends equipped with grease fittings for easy lubrication
Right hand and left hand threaded CNC machined and silver zinc plated 4140 chrome moly double male stud adjusters thread into 4130N chrome moly TIG welded threaded tube adapters
Re-uses OEM mounting hardware, no need to drill out your car's mounting bracket holes
These are the highest quality, easiest to adjust on the car rear upper control arms on the market!
Available powder coated in your choice of the above colors for a brilliant and durable finish

Priced per Pair -- Qty. 1 = 1 Pair