Bolt-In Driveshaft Safety Loop - 1993-2002 GM F-Body: Camaro & Firebird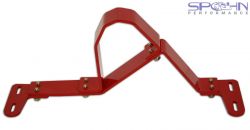 Click Image for Larger View
$105.00
SKU #: 991
Brand: Spohn Performance
Description


Application: 1993-2002 GM F-Body: Camaro & Firebird
This bolt in driveshaft safety loop for the 1993-2002 F-Body Camaro and Firebird will keep your car legal at the track with no welding or drilling required. The loop bolts in and replaces your OEM tunnel brace. Unique design will clear aftermarket exhausts with no ground clearance loss! Loop is adjustable side to side to provide a precision fit.
Grade 8 hardware provided. Available powder coated in your choice of the above colors.
Note: Will not fit convertible cars. Designed for use with the OEM torque arm. Clears up to 3.00" o.d. driveshafts.