2" Front Leveling Kit - 2006-2015 Dodge Ram 4x4 1500 (Except Mega Cab) & 2005-2011 Dodge Dakota 4x2 & 4x4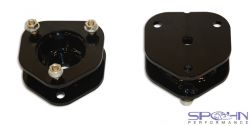 Click Image for Larger View
$99.00
SKU #: D06-1500-FLK
Brand: Spohn Performance
Description

Application: 2006+ Dodge Ram 1500 4x4 (Except Mega Cab) | 2005-2011 Dodge Dakota 4x2 & 4x4
When searching for a front leveling kit for your Dodge Ram 1500 4x4 or Dakota 4x4 and 4x2 trucks you'll find a few choices, some cheaper in cost than these. But as with anything, you get what you pay for. The low cost alternatives on the market are lacking in build quality to say the least.

The Spohn Performance front leveling kit for the Dodge Ram and Dakota is American made from DOM tubing and 1/4" CNC laser cut plate that we completely deburr and chamfer. They are then assembled and jig welded by our skilled craftsmen right here in our Pennsylvania based facility.... and it shows. If you care about the quality of the parts you put on your truck, then look no further!

This 2" front leveling kit is designed to lift only the front of the Dodge Ram 1500 4x4 and Dakota 4x2 and 4x4 trucks to make the front level with the rear. This provides more fender clearance for larger tires and makes for a nicer stance. It is engineered to mount above the factory front struts to maintain factory ride quality and strut travel. Factory struts can be retained. This kit is a 100% bolt in installation.

Build Specifications:
2.75" x .125" wall DOM tubing (100% deburred and chamfered)
CNC laser cut 1/4" steel plates (100% deburred and chamfered)
Precision MIG welded (full solid welds - no skip welds!)
Includes all required mounting hardware
Powder coated gloss black for a brilliant and durable finish
100% bolt in installation

Priced per Pair -- Qty. 1 = 1 Pair

Fitment Note: Will NOT fit the 2003-2005 Dodge Ram 1500 4x4 that had a torsion bar front suspension. Will NOT fit on any Mega Cab trucks.