Extended Length Braided Stainless Steel Brake Lines | 2007-2011 Jeep JK Wrangler (2 Door) & Wrangler Unlimited (4 Door) with 0"-6.0" Lift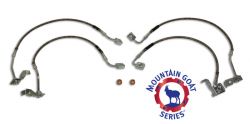 Click Image for Larger View
$199.00
SKU #: JK-EBL06-0711
Brand: Mountain Goat Series
Description

Application: 2007-2011 Jeep® JK Wrangler (2 Door) & Wrangler Unlimited (4 Door)
Rubber brake hoses can dry out and become cracked and tear under hard duty. These braided stainless steel brake hoses will stand up to the most extreme use on the trail and on the road. You'll get better braking performance and a much firmer brake pedal feel.

This kit is perfect for lift kits because all of the hoses have a 6" extended length. If you have up to a 6" lift kit installed, these brake lines will provide the extended length that you need at full droop. Best of all, they meet or exceed DOT MVSS-106 regulations and are DOT marked for legal highway use in all 50 states.

This kit includes all four brake lines: a pair of front brake lines and a pair of rear brake lines.

Fitment Note: Will not fit the 2012+ Jeep® JK Wrangler.