Strange Engineering Lightweight Front Drag Brakes - 1967-1972 GM A-Body: Chevelle, Malibu, GTO, etc.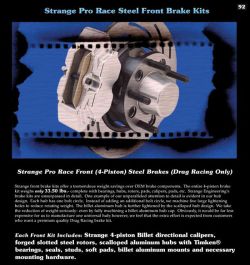 Click Image for Larger View
$795.00
SKU #: STR-B4110WC
Brand: Strange Engineering
Description


Application: 1967-1972 GM A-Body: Chevelle, Malibu, GTO, etc.
Ultimate stopping power for your race car!

These Strange Engineering Pro Race steel front brake kits for the 1967-1972 A-Body offer a tremendous weight savings over OEM brake components. The entire 4-piston brake kits, complete with bearings, hubs, rotors, pads, calipers, etc., weigh only 33.5 lbs. They are unsurpassed in detail, as is evident in the hub design. Each hub has one bolt circle. Instead of adding an additional bolt circle, Strange machined five large lightening holes to reduce rotating weight. The billet aluminum hub is further lightened by its scalloped design and fully machined billet aluminum hubcap.
NOTE: These are DRAG RACE brakes and not designed or intended for street driven vehicles.

** Will not fit 1964-1966 A-Body cars.