QA1 Spanner Wrench & Thrust Bearing Set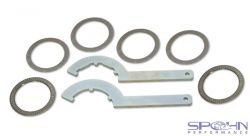 Click Image for Larger View
$40.95
SKU #: Q-7888-110
Brand: QA1
Description

Application: QA1 Coil-Over Shocks & Struts
The easy way to adjust your ride height on QA1 coil-over shocks and struts.
This spanner wrench set is needed to adjust the QA1 coil-over shock's spring seat. This kit also includes a set of thrust washers and Torrington needle roller bearings to provide for bind-free spring rotation and easy on-the-vehicle ride height adjustments.
This kit includes enough parts to do two springs.