Rear Upper Control Arms - Tubular with Polyurethane Bushings - 1971-1976 GM B-Body: Impala, Caprice, etc.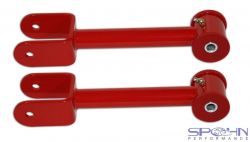 Click Image for Larger View
$119.00
SKU #: 671
Brand: Spohn Performance
Description

Application: 1971-1976 GM B-Body: Impala, Caprice, etc.
Our tubular rear upper control arms for the 1971-1976 GM B-Body Impala, Caprice, etc. outperform the flexible, stamped steel arms and soft rubber bushings that come from the factory.
Eliminate wheel hop and increase traction with an easy bolt on installation! All ends are fitted with grease fittings for easy lubrication of the fluted polyurethane bushings.
Available powder coated in your choice of the above colors for a brilliant and durable finish.
4130N Upgrade: The ultimate in bullet-proof lightweight strength, 100% TIG welded 4130N chrome moly construction! Same as above, but constructed entirely from 4130N chrome moly tubing.
Priced per Pair -- Qty. 1 = 1 Pair