Precision Front End Rebuild Kit - 1971-1980 GM H-Body: Vega, Monza, etc.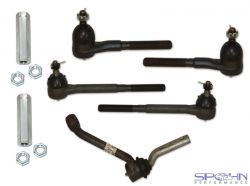 Click Image for Larger View
$235.00
SKU #: E-FRTKIT-H
Brand: Spohn Performance
Description
Application: 1971-1980 GM H-Body: Vega, Monza, etc.
Spohn Performance is known for quality parts, our front end rebuild kit for the 1971-1980 H-Body Vega, Monza, etc. is no exception. Includes everything you need to make your front end better then it was the day it rolled off the assembly line!
Our front end rebuild kit includes:

Option: We made the precision front lower and upper ball joints an option as those getting tubular a-arms will already have them. The ball joints listed in the option box are for use on stock spindles.

Note: Center links are not available.