Rear Lower Control Arms - Adjustable with Del-Sphere / Poly Combo - 1971-1980 GM H-Body: Vega, Monza, etc.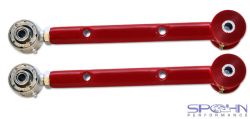 Click Image for Larger View
$275.00
SKU #: H-207
Brand: Spohn Performance
Description

Application: 1971-1980 GM H-Body: Vega, Monza, etc.

Our rear LCAs for the 1971-1980 H-Body Vega and Monza outperform the flexible, stamped-steel arms and soft rubber bushings that come from the factory. Eliminate wheel hop and increase traction with an easy bolt on installation.
Poly ends are fitted with grease fittings for easy lubrication of the fluted polyurethane bushings. Our LCAs feature .875" o.d. x .188" wall sway bar mounting bolt through sleeves TIG welded in to place to handle the most severe abuse. Tubing is CNC laser cut for a precison fit.
Adjustability allows for fore and aft centering of the rear to correct for factory tolerances, this also allows for fore and aft movement of the entire rear assembly to provide for adequate tire clearance when running large tires.
The Del-Sphere pivot joints provide for "bind-free" performance. The fluted polyurethane bushed ends are mounted onto the chassis (floor) mount to absorb road noise. These combo ended LCAs will still wipe out most bind, yet keep the noise increase minimal for a street driven car.

Available powder coated in your choice of the above colors.

Priced per Pair -- Qty. 1 = 1 Pair