QA1 Pro-Coil System - 18 Way Single Adjustable - 1973-1987 GM G/A-Body: Regal, Malibu, Monte Carlo, etc.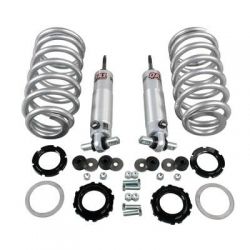 Click Image for Larger View
$492.95
SKU #: Q-GMP-G
Brand: QA1
Description
Application: 1973-1987 GM A/G-Body: Regal, Malibu, Monte Carlo, etc.
Easy Bolt-In Installation
Minimal modifications to be made. Remove the existing shocks and springs and the QA1 Pro Coil System bolts right in.
Specially Designed Conical Springs
These springs are designed so that the lower end sits on the coil-over shock's adjustable spring seat and the upper end sits in the original spring pocket in the frame. This allows for the use of a longer and lighter spring for more stored energy, offering increased weight transfer. Greater durability is also achieved by locating the spring pressure in the frame and not on a single stud.
Ride Height Adjustable - Threaded aluminum body allows ride height adjustment.
The Pro Coil System includes:
(2) Proma Star 18 way single adjustable coil-over shocks
(2) Conical springs
All mounting hardware

Spring Rates:
250#: Extremely Lightened Drag Race Vehicle
300#: Stock Weight Drag Race
350#: Small Block - Cruise
400#: Small Block - Sport Handling
450#: Small Block - Autocross | Big Block - Cruise
500#: Big Block - Sport Handling
550#: Big Block - Autocross
We recommend getting the spanner wrench and torrington thrust washer/needle bearing kit (click here). This kit will give you all of the tools you need to make ride height adjustments, along with the thrust washers and bearings to place on to the coil spring base to prevent spring bind and make for easy ride height adjustments.