Wilwood Lightweight Drag Race Front Disc Brake Kit - 1982-1992 GM F-Body: Camaro & Firebird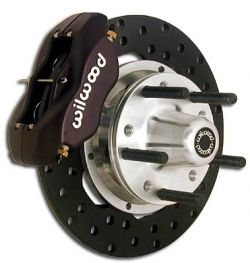 Click Image for Larger View
$649.99
SKU #: WIL-140-1035B
Brand: Wilwood Brakes
Description
Application: 1982-1992 GM F-Body: Camaro & Firebird
Chop 50 lbs. off your front-end .....

Wilwood's Dynalite Drag Race front disc brake kit for the 1982-1992 F-Body Camaro and Firebird features billet 4 piston calipers, forged billet hubs, lightweight 10.75" diameter x .35" thick alloy steel rotors, and PolyMatrix pads. The resulting package produces great braking performance and also chops a whopping 50 lbs. off of your vehicle's front-end. Each kit includes CNC machined aluminum mounting brackets and all hardware necessary for installation.

Tech Note: Not for street use, these are drag race only front brakes.