Turbo 400 (Short Tail) Transmission Crossmember - 1982-1992 GM F-Body: Camaro & Firebird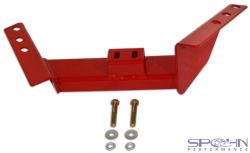 Click Image for Larger View
$119.00
SKU #: 400XM
Brand: Spohn Performance
Description
Application: 1982-1992 GM F-Body: Camaro & Firebird
Transmission crossmember for the installation of a Turbo 400 transmission into a Third Generation F-Body Camaro and Firebird.
This crossmember is made of CNC laser cut and formed 3/16" mild steel construction and utilizes the OEM sub-frame mounting holes to allow for an easy 100% bolt in installation.
Available with an optional NHRA approved driveshaft safety loop built onto the crossmember.
This is the crossmember only for those who do not require torque arm provisions (ie. 4 link and ladder bar set-ups). We also offer a complete package that includes the transmission crossmember and adjustable torque arm for the Turbo 400 application (click here).
The complete assembly is powder coated in your choice of the above colors for a brilliant and durable finish.