Wilwood Lightweight Drag Race Rear Disc Brake Kit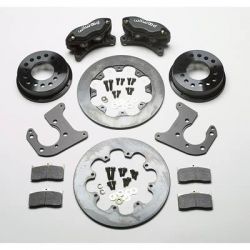 Click Image for Larger View
$511.95
SKU #: WIL-140-0261-BD
Brand: Wilwood Brakes
Description

Application: Aftermarket Rear Ends with Big Ford Housing Ends
Having disc brakes up front is a great idea. So is having them at the rear, and Wilwood's Dynalite drag race rear disc brake kits make it possible.
They're built around Wilwood's forged billet aluminum four piston calipers, 11.44" diameter x 0.35" thick lightweight alloy steel drilled rotors with machined aluminum mounting hats, and Polymatrix brake pads.

This combination produces great stopping power, and simultaneously reduces both rotating mass and overall vehicle weight. That lighter overall weight, in turn, can translate into lower ETs. The kits come complete with Grade 8 and aircraft-quality mounting hardware.

Tech Note: Not for street use, these are drag race only rear brakes.