HTP Fiberglass Rear Spoiler - Fourth Gen Style - 1982-1992 Pontiac Firebird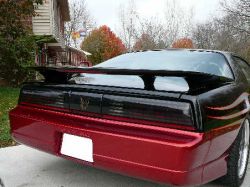 Click Image for Larger View
$479.00
SKU #: HTP-GT-RS180
Brand: HTP
Description

Application: 1982-1992 Pontiac Firebird
One of the best ways to distinguish your car from the rest of the crowd is with a quality fiberglass rear spoiler from HTP. All spoilers come ready to be prepped, fitted and painted by your local body shop.
Spoiler Type: Fourth Gen Style.

Click Here for shipping information and instructions.