LSx Engine Swap - 4L60E, 4L65E, 4L70E Transmission Crossmember - 1982-1992 GM F-Body: Camaro & Firebird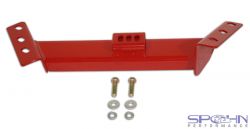 Click Image for Larger View
$119.00
SKU #: LS14L60EXM
Brand: Spohn Performance
Description

Application: 1982-1992 GM F-Body: Camaro & Firebird
Transmission crossmember for the installation of a 4L60E (from a 1998-2002 F-Body), 4L65E, or 4L70E transmission into a Third Generation F-Body Camaro and Firebird swapping in a LSx engine.
The crossmember is made of sturdy mild steel construction and utilizes the OEM subframe mounting holes to allow for an easy direct bolt-in installation.
Available with an optional NHRA approved driveshaft safety loop built onto the crossmember.
This is the crossmember only for those who will re-install the OEM torque arm. We also offer a complete package that includes the crossmember and adjustable torque arm for the 4L60E, 4L65E, and 4L70E applications (click here).
The complete assembly is powder coated in your choice of the above colors for an attractive and durable finish.
Note: For proper alignment, this crossmember must be used in conjunction with our LSx engine swap motor mount bushing adapter stands (click here).