Stage 8 Locking LSx Header Bolt Set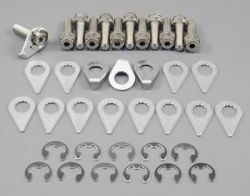 Click Image for Larger View
$55.96
SKU #: STG-8900
Brand: Stage 8
Description

Application: LSx Engines

Stop leakage from loose header bolts....

Made in the U.S.A., Stage 8's Grade 8 locking header bolts use a patented system that consists of a grooved hex-head bolt, a retainer, and a snap clip.
The retainer fits over the bolt head and locks the bolt against the header tube, and the snap clip holds the retainer in place.
Once Stage 8 header bolts are tightened down, they won't back out--eliminating leakage and blown header gaskets from loose bolts.
Note: Sold in Sets - Qty. 1 = 1 Complete Set