QA1 "R Series" 18 Way Rebound Adjustable Front Struts - Pair - Retrofit For Existing Spohn 737 & 738 Coil Over Kit - 1982-1992 GM F-Body: Camaro & Firebird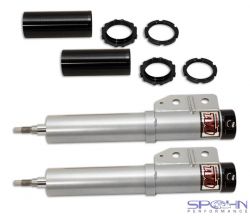 Click Image for Larger View
$608.95
SKU #: Q-HR607SK-CO
Brand: QA1
Description

Application: 1982-1992 GM F-Body: Camaro & Firebird
QA1 Front Struts with Coil Over Sleeves, Spring Seats and Locking Rings: This front strut package is for customers who already have a Spohn Performance SKU# 737 or 738 front coil over kit and now want to install the QA1 adjustable front struts. This package includes a pair of the QA1 front struts along with the required threaded coil over sleeves, spring seats and locking rings that mount on to the QA1 strut to allow installation of your existing coil over springs.

These struts can do it all! QA1 18 way "R Series" rebound adjustable front struts.

These QA1 "R Series" rebound adjustable front struts provide a machined, externally adjustable front strut designed specifically for the 1982-1992 F-body Camaro and Firebird. The valving adjustment is made with a single knob at the base of the strut (18 rebound settings total), enabling you to adjust weight transfer to changing track conditions or for ride comfort. They are completely rebuildable and revalvable for a lifetime of service and customizing. For more information on the difference between the three types of struts QA1 offers read our technical article "What is the difference between single adjustable, double adjustable and "R" series type struts?".

The 1982-1992 F-Body Camaro & Firebird QA1 Adjustable Front Struts Feature:
They can be used with or without coil-over kits
Deflective Disc Valving - Advanced Shock/Strut Technology: Increased sensitivity in valving response, control and consistency
On-The-Car Valving Adjustment: Gone are the days of removing shocks and struts to adjust valving – simply turn the knob
Centerless Ground, Hard Chrome Plated, Solid Piston Rod: 22mm on struts. Precision surface eliminates flex, increasing valving consistency
Machined Steel Body: Bright silver plated for unmatched durability and great appearance.
Three Step Sealing System: Advanced aerospace material, exclusive double lip seal design and wiper seal eliminate seal drag and dirt intrusion
100% Dyno Tested and Serialized: Assures consistency in production and performance
Priced per Pair -- Qty. 1 = 1 Pair
Fitment Notes: Some grinding of the factory spindles is required for installation. For more information on these modifications click here.