Spohn Precision Front End Rebuild Kit - 1982-1992 GM F-Body: Camaro & Firebird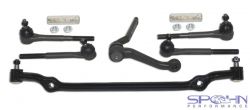 Click Image for Larger View
$299.95
SKU #: E-FRTKIT-8292-1
Brand: Spohn Performance
Description
Application:
1982-1992 GM F-Body: Camaro & Firebird
Spohn Performance is known for quality parts, our front end rebuild kit for the 1982-1992 F-Body Camaro and Firebird is no exception. CNC machined tolerances and quality materials make the Spohn precision components superior to other brands on the market and we offer them at a better price.
Our front end rebuild components feature
CNC machined forged and heat treated alloy steel housings, chrome moly studs and high durometer rubber dust boots. This complete package saves you $$$ over ordering each item independently!
It's everything you need to make your front end better then it was the day it rolled off the assembly line.
Our front end rebuild kit includes:
Option
:
We made the Spohn precision front lower
ball joints
an option as those getting tubular a-arms will already have them.