Polyurethane Bushing & Chassis Grease - 14 oz Tube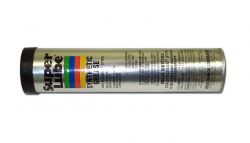 Click Image for Larger View
$17.45
SKU #: 902
Brand: Super Lube
Description


This is the good stuff!
Polyurethane bushing manufacturers advise to never use a petroleum based grease for poly bushing lubrication. Polyurethane should only be lubricated with one specific type of grease to insure a long bushing life and squeak-free performance. Synthetic water-proof grease, the clear sticky stuff!
We've found this grease to be so good, we use it for the entire chassis lubrication on the cars we build and race out of our shop. It stays where you put it and it doesn't wash away.
Don't pay the other guys $9.95 for a little foil pack of this stuff. It's a low volume use grease, and thus most local stores do not carry it. We special order it in large quantities and can pass the savings on to you.
Qty. 1 = (1) 14 oz. Grease Gun Cartridge