8 Point Roll Bar - 4130N Chrome Moly - 1982-1993 GM S-10 Standard Cab & Blazer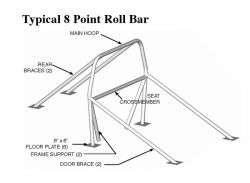 Click Image for Larger View
$640.95
SKU #: SW-11-1017-4130
Brand: S&W Race Cars
Description


Application: 1982-1993 GM S-10 Standard Cab Truck & Blazer
1-3/4" x .083" wall 4130N chrome moly 8 point roll bars are precision bent for the 1982-1993 S-10 Standard Cab Truck and Blazer body style and feature notched tube ends (where applicable) for ease of installation. Roll bars are designed to increase chassis stiffness and protect the driver in the event of a crash. The kit includes a main hoop, rear braces, side bars, frame supports, seat crossmember, outriggers and steel mounting plates. **This is a weld-in kit**
You have the option of choosing a swing out side bar kit. This hinges the side bar to allow easy entrance and exit from the vehicle. They are priced per side, and they meet NHRA requirements.
Note: Will not fit extended cab trucks. Chrome Moly must be TIG welded.

Roll bar meets and exceeds NHRA and IHRA requirements.


Click Here to view .pdf instructions and schematics

Shipping Notice: Roll cages ship via FedEx Express. We must manually calculate the shipping charge for this item. We will contact you via phone or email with the shipping charge for your approval before processing the order.