TH400 & 200-4R Mounting Kit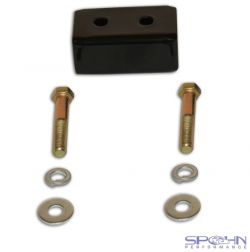 Click Image for Larger View
$30.00
SKU #: 030
Brand: Spohn Performance
Description
Videos

Application: 1993-2002 GM F-Body: Camaro & Firebird
This simple kit allows the installation of a TH400 or a 200-4R transmission in to a 1993-2002 GM F-Body Camaro and Firebird using a factory M6 crossmember.
You use the stock 1993-1997 or 1998-2002 six speed crossmember and install our mounting spacer block between the crossmember and the polyurethane (required) transmission mount. This places the TH400 or 200-4R at the proper mounting height.
The kit comes with (2) Grade 8 mounting bolts, (2) flat washers and (2) lock washers that go through the factory crossmember, up through the mounting block, and thread in to the polyurethane transmission mount's two outer holes.