Strange Engineering - 12 Bolt Rear End - Complete - 1993-2002 GM F-Body: Camaro & Firebird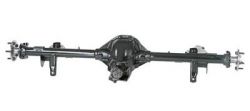 Click Image for Larger View
$3075.00
SKU #: STR-12-4
Brand: Strange Engineering
Description

Application: 1993-2002 GM F-Body: Camaro & Firebird
If you have questions regarding rear ends and their options read the "Ordering A Rear End - The Master FAQ List" in our Support Center.
The Strange Engineering 12 Bolt Rear..... when quality matters!
Strange Engineering's 12 bolt rear end for the 1993-2002 F-Body Camaro and Firebird replaces the weak 7.5" rear end found in F-Body cars.

The Strange 12 bolt rear end features the following:
Strange designed 12 bolt case with torque arm mount
Premium nodular iron casting
Heavy-duty Strange/Eaton 33 spline posi unit or your choice of a steel or aluminum spool
Fully welded tubes
Manufactured to "bolt-in"
Chome-moly caps
Optional aluminum rear cover
Standard axle is 33 spline
1350 series pinion yoke with conversion u-joint supplied
Large 3.150" housing ends - eliminating c-clip axles
Accepts 93-97 or 98-02 disc or drum brakes
Optional ABS sensor

Strange Engineering offers the strongest and easiest to install 12 bolt rear end in the industry. The Strange designed 12 bolt casting is poured from premium, highly ductile, nodular iron.
The casting is machined with mated lightweight chrome-moly caps to exacting tolerances, using the latest Mazak machinery - ensuring an unyielding foundation that maximizes gear life and eases gear set installation.
What's in the set-up? Everything! Each rear end is meticulously assembled by a set-up department unsurpassed in the rear end market - the same department that fastidiously assembles $20,000 Top-Fuel rear ends.
We do not mass-produce rear ends. Each rear end receives the attention, regardless of time, needed to provide our customers with the best possible assembly. Every rear end component is relentlessly scrutinized by our experienced set-up department - including massaging each tooth of every gear set in order to optimize tooth contact.
Strange Enginnering has been the leader in driveline and suspension for over 40 years by paying special attention to detail - the Strange 12 bolt rear end is no exception. The Strange rear end features 360* fully welded tubes, large 3.150" i.d. housing ends, 1350 series pinion yoke, conversion u-joint, and 33 spline axle shafts - at no extra charge!
Each fully set-up rear end with a posi unit is filled with gear oil and GM posi additive. Each rear end is fully crated to ensure the recipient of an uneventful delivery experience. The pride instilled into a Strange set-up is evident with the set-up technician's signature and date engraved into each ring gear.
Brakes
1998-2002 F-Body: You have two choices for installation of factory 1998-2002 F-Body rear disc brakes. You can send in your brake backing plates/caliper mounts so they can be built into the rear, or you can choose to have Strange ship the rear with the bearings not installed on the axles so you can install the brakes yourself and then press the bearings onto the axles. Also note that if you choose the 4 channel ABS option, the price includes new reluctor rings installed on the axles.
1993-1997 F-Body: If you choose no ABS you will need to choose the Strange supplied new billet aluminum brake backing plates option. If you choose to install 3 Channel ABS, the price includes new billet aluminum brake backing plates.
ABS: ABS options are NOT available with a spool. The 4 channel ABS option works with 1998-2002 cars only.
Shipping Notice: This rear end must ship by truck freight and is not eligible for free shipping. We will contact you for your approval of the truck freight shipping charge before processing your order. If you have any questions, feel free to email our sales team! Please allow 3-4 weeks for shipment after ordering as Strange rear ends are built to order.