Koni Sport Yellow Rear Shocks - Pair - 1993-2002 GM F-Body: Camaro & Firebird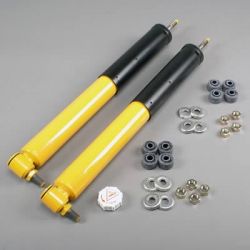 Click Image for Larger View
$399.95
SKU #: KON-8241-1140SPT
Brand: Koni
Description


Application: 1993-2002 GM F-Body: Camaro & Firebird
The KONI Sport "Yellow" product line is one of our specialties. KONI serves sporting drivers with a carefully designed range of sport shock absorbers. This line focuses on exceptional road-holding and handling properties, combined with an acceptable level of comfort.
Its characteristics include responsive steering, improved body control and limited body movements when braking and accelerating, all resulting in a direct feel and excellent wheel-road contact.

ADJUSTMENT AT THE TURN OF A HAND
Many of the KONI Sport dampers are externally adjustable by means of a knob, so they need not be disassembled from the car. The fine-tuning of the damping forces to personal driving style and to different driving conditions is therefore not more than a matter of seconds. The best of fine-tuning technology straight from the world of Formula 1 racing.

TECHNOLOGY FROM THE WORLD OF RACING
In the development of shock absorbers. The KONI research engineers find themselves supported by KONIs many years of know-how and experience in motor racing. Ever since 1955 KONI has held a prominent position in the racing world: 13 World Championships in Formula 1 need no further proof. In addition there have been numerous victories in all categories of motor racing, e.g. Le Mans and Indy races.
Top drivers and constructors rely on KONI: only the best is good enough for them. KONI Sport will make the most of your car, too.
Last but not least, KONI's are built to last a lifetime. Once you have bought a set of KONI's for your car, they usually will outlive it. KONI street shocks carry a lifetime warranty to the original purchaser for as long as you own the vehicle.
Sold in Pairs - Qty. 1 = 1 Pair