1.00" (25mm) Diameter Solid 4140 Chrome Moly Rear Sway Bar - 1982-2002 GM F-Body: Camaro & Firebird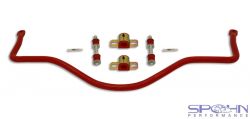 Click Image for Larger View
$174.50
SKU #: 923-Rear
Brand: Spohn Performance
Description

Application: 1982-2002 GM F-Body: Camaro & Firebird
Spohn Performance sway bars are the single biggest handling improvement you can make to the 1982-2002 GM F-Body Camaro and Firebird. They dramatically reduce body roll and increase your cornering capability. Don't skimp on the foundation of your suspension!
Our rear sway bar is a larger and stronger 1.00" diameter solid 4140 chrome moly to reduce body roll and provide predictable handling.

Our bar stock is heat treated solid 4140 chrome moly. The bar is entirely heat formed and coined as one piece.
We put our bar through this extensive process to insure that the final product will be the strongest, most durable sway bar on the market, and that it will be the most resistant to form alteration.
Most aftermarket anti-sway bars are cold-bent, making them weaker at the bends, and more vulnerable to shape alteration.

The rear sway bar kit includes polyurethane bushings with grease fittings and polyurethane end links. Everything you need for an easy bolt in installation and maximum performance!

Drag Racers: This rear sway bar is perfect for those looking for a factory style heavy-duty rear sway bar to keep things level on those hard launches, it's up to the task!

It's available powder coated in your choice of the above colors for a brilliant and durable finish.