600 HP Extreme Duty Rear Axles & CV Joints - 2004-2006 Pontiac GTO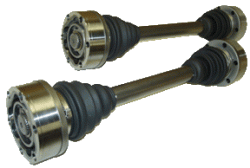 Click Image for Larger View
$699.95
SKU #: GTO-600A
Brand: DSS
Description
Application:
2004-2006 Pontiac GTO
600 HP Extreme Duty Rear Axles & CV Joints

These 600 HP axles for the 2004-2006 Pontiac GTO feature Porsche style 108mm CVs with full chromoly internals that are significantly stronger than the factory design. The axles are 1-1/8" od 36 spline chrome moly. These are direct fit axles and will handle the most powerful street cars. These axles will bolt directly to the factory differential stubs or our Extreme Duty chrome moly differential stubs and include new hardware for installation. Rated to 600HP!

These axles are priced as a complete set and have a 1 year warranty.