Moser Engineering Ford 8.8" Performance Rear End Cover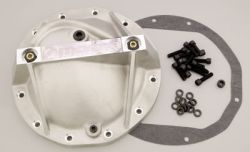 Click Image for Larger View
$149.00
SKU #: MSR-7106
Brand: Moser Engineering
Description


Application: Ford 8.8" Rear Ends
Rear-end support that you can count on.

Moser's performance aluminum rear end covers are made of 356T6 aluminum and are designed to improve ring and pinion gear life, as well as the appearance of your vehicle. They are a support-style cover that stiffens up the main cap area, helping your gears to last longer and even further reduce the amount of ring deflection.

The cover weighs only 6 pounds and includes all necessary bolts, washers, and gaskets.