Rear Lower Control Arm Relocation Brackets - 2005-2014 Ford Mustang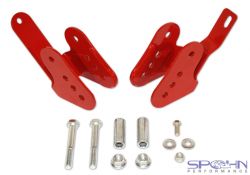 Click Image for Larger View
$115.00
SKU #: M5-210
Brand: Spohn Performance
Description

Application: 2005-2014 Ford Mustang
Our rear lower control arm relocation brackets for the S197 2005-2014 Ford Mustang reposition your instant center by lowering your rear lower control arm angle for increased traction and anti-squat.
They have four (4) mounting positions available that lower the rear of the control arm up to 4". The S197 cars are notorious for massive wheel hop and these rear lower control arm relocation brackets coupled with a set of good rear lower control arms are the cure!
Lowered Vehicles: This product is a must for lowered vehicles to correct your suspension geometry. Lowering your vehicle alters the control arm angle putting the rear of the control arm higher than the front, this causes massive wheel hop, traction loss and bad handling.

Non-Lowered Vehicles: Stock ride height cars will see a dramatic increase in traction by lowering the rearward angle of the control arm with our relocation brackets. The four lowered mounting holes are placed in the arc pattern of the OEM length control arm, this allows a non-lowered Mustang to drop the rear control arm angle and not require a longer than OEM (or adjustable) control arm as all geometry is correctly maintained. The anti-squat performance is providing most users with a full .10 or better 60' reduction!

Our relocation brackets are CNC laser cut and formed from 3/16" steel using state-of-the-art CAD/CAM technology for precision tolerances. They are an easy installation and all mounting hardware is included. They come with a brilliant and durable powder coated finish in your choice of the above colors.

Priced per Pair -- Qty. 1 = 1 Pair
Installation Note: These bolt in place only for easy and accurate alignment. They must then be welded in place.