Adjustable Rear Upper Control Arm with Spherical Rod End - 2011-2014 Ford Mustang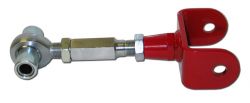 Click Image for Larger View
$119.00
SKU #: M5-603-11
Brand: Spohn Performance
Description

Application: 2011-2014 Ford Mustang
Our adjustable rear upper control arm outperforms the flexible, stamped-steel arm and soft rubber bushing that comes from the factory.
Eliminate wheel hop, improve handling, and increase traction with an easy bolt on installation. Adjustability feature allows for setting the pinion angle.
Our right hand and left hand threaded CNC machined double adjuster allows for easy on-car adjustments, no need to unmount the control arm to make adjustments!
Our upper control arm features a chrome moly spherical rod end with Teflon self lubricating race. We do not, and will not, build an upper arm with a poly bushing. The design of the 2005+ Mustang's three link rear suspension system requires that the upper link be able to fully articulate for proper suspension function. The use of a polyurethane bushing at the front end of the upper arm will only cause complete suspension bind!
Specifications:
Stronger, yet lighter then stock
TIG welded 4130 chrome moly threaded end
Right hand and left hand threaded CNC machined 4140 chrome moly double adjuster
1/4" thick CNC cut and formed steel mounting bracket
CNC machined through sleeve and silver zinc coated steel spacers keep rod end perfectly centered inside of the vehicle mounting bracket
Re-uses OEM mounting hardware, no need to drill out your car's mounting bracket holes
The highest quality, easiest to adjust on the car upper control arm on the market!
Available powder coated in your choice of the above colors

Angle Finder Option: You can choose the optional angle finder tool used to accurately set your pinion angle.
Polyurethane Rear Housing Bushing Option: Replaces the stock rubber bushing in the housing mount.