Eibach Pro Performance Lowering Springs - 2005-2014 Ford Mustang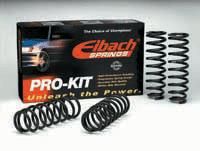 Click Image for Larger View
$249.00
SKU #: EIB-M5-Pro
Brand: Eibach
Description

Application: 2005-2014 Ford Mustang - Specify Engine Type
Pro-Kit...
The Look That Performs!

The Pro-Kit is Eibach's premium suspension product and is considered to be one of the world's top performance suspension products. The performance and reliability has been proven in millions of Pro-Kit spring sets sold in all five continents and in more than 40 countries around the world.
The Eibach Pro-Kit spring system is the first choice for enthusiasts when upgrading their vehicle's suspension, improving both the vehicle's performance and appearance. The Pro-Kit provides, quite simply... "The Look That Performs".
High ground clearance and huge fender-well gap inherent from the factory give your vehicle an unfinished look. Whether you plan to stay with your factory tires and wheels or adding performance wheels and tires, chances are, your car has "the lifted look". In reality a "Plus 1" or "Plus 2" wheel and tire package with a lower profile tire will exaggerate the large gap even more.
An Eibach Pro-Kit is designed to reduce the fender-well gap by safely lowering your vehicle, giving it a more attractive, sportier stance. The Pro-Kit is the perfect compliment to any vehicle, whether in stock form or fitted with a larger tire and wheel package. The Pro-Kit will set your vehicle off from others, giving it "The Look" you want.
All Eibach Pro-Kits are designed by experienced engineers specialized in chassis dynamics and are tested by seasoned qualified drivers. They are designed to properly and safely lower your vehicle's center of gravity through the use of proprietary progressive spring rates; reducing squat during acceleration, body roll in the turns, and nose dive under braking. Upon installation, your vehicle becomes exceptionally stable and secure under a much wider range of conditions and will provide years of enhanced driving pleasure, whether you are twisting your way through a mountain pass or cruising down the interstate or tempting the Autobahn.
Vehicles equipped with performance wheels and tires also need the additional performance provided by the Eibach Pro-Kit. Performance wheels and tires create a larger contact patch which increases the adhesion resulting in additional body roll. The Eibach Pro-Kit is designed to control this additional body roll becoming the heart of your performance suspension package.
Getting your vehicle to look and perform "just right" is not an elusive recipe, in fact it's down right simple; wheels... tires... Eibach Springs.
Installing an Eibach Pro-Kit will take your passion for driving to a whole new level. For the demanding enthusiast or the daily commuter, an Eibach equipped vehicle provides the best balance between appearance, performance, safety, and ride quality.
Advantages of the Eibach Pro-Kit:
Excellent ride quality - comfortable in cruising
Sportive handling in cornering, resulting in improved performance
Lowered center of gravity, increased stability
Enhanced appearance of vehicle
Manufactured according to ISO 9001 quality system as well as TÜV approved
10 year product warranty