Adjustable Camber Bolts - Strut to Spindle - 2010-2015 Chevrolet Camaro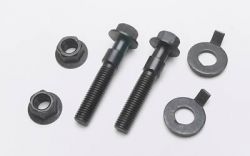 Click Image for Larger View
$39.95
SKU #: C10-Camber2
Brand: Spohn Performance
Description

Application: 2010-2015 Chevrolet Camaro
Our 2 degree camber bolts are used for adjusting the camber with stock and/or aftermarket struts. When lowered 1.0" or more the car will develop negative camber resulting in premature tire wear.
You can adjust +/- 2 degrees of camber on both front struts with one pair of bolts. For even more additional front camber adjustment see our front control arm camber bolts by clicking here.
Priced per Pair -- Qty. 1 = 1 Pair.