Moser Engineering 9.5" Rear Drum Brake Kit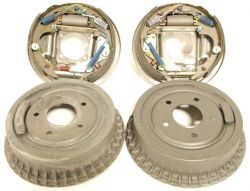 Click Image for Larger View
$465.00
SKU #: MSR-6006
Brand: Moser Engineering
Description

Application: Aftermarket Ford 9", 12 Bolt, Dana 60, etc. Rear Ends with Small GM Housing Ends

Note: Will not fit on stock rear ends. Must be used on aftermarket Ford 9", 12 bolt, Dana 60, etc. rear ends built with small GM housing ends. Order these at the same time as you order your rear end from us and we'll have it built for plug-n-play set-up!

Moser Engineering offers new 9.5" drum brake set ups. Completely new backing plates and drums made to fit the small GM style housing ends. Bolt pattern will be drilled to match your vehicle type. This kit is perfect for those with 14" rims. If you are running 15" or larger rims we'd suggest our 11" rear drum brake kit.