Wilwood Dynalite Pro Series Rear Disc Brake Kit with Internal Parking Brake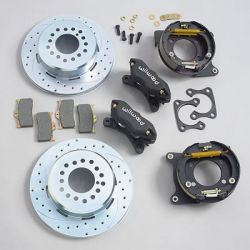 Click Image for Larger View
$738.79
SKU #: WIL-3-Rear
Brand: Wilwood Brakes
Description


Application: Aftermarket Ford 9", 12 Bolt and Dana 60 Rear Ends
NOTE: Will not fit on stock rear end. Must be used on aftermarket Ford 9", 12 bolt, or Dana 60 rear ends built with Big Ford (2.36" offset) housing ends. Order these at the same time as you order your rear from us and we'll have it built for plug-n-play set-up!
Lightweight stopping power!

Wilwood's Dynalite Pro Series Rear Disc Brake Kit with internal parking brake combines high performance braking, high-tech style, and functional simplicity for rear axle disc brake conversions that require a parking brake. Pro Series rear kits use Forged Billet Dynalite calipers, PolyMatrix brake pads, and iron rotors with integral mounting hats to engage the parking brake assembly hidden neatly inside. Whether it's a simple conversion from drum brakes, or an upgrade to compliment wheels, tires, or suspension equipment, these kits have it all. Check out the performance features and the options available in this new generation of rear axle kits from Wilwood.
Forged Billet Dynalite 4 Piston Calipers
FDL calipers are the newest and strongest in the class. Stress-flow forging and a highly efficient radial transition body design are key elements contributing to the superior strength and performance of the FDL. The superior strength of this innovative caliper is combined with proven performance features from other Wilwood designs. FDL calipers are a fixed lug mount, opposed piston configuration that generates high clamping force without deflection from four stainless steel pistons. Stainless is used to resist corrosion and reduce heat transfer. Square faced o-rings provide long service life and decreased drag from positive piston retraction. Each caliper uses Wilwood's SRS stainless steel bridge plates to eliminate bridge wear caused by pad gouging and extend the service life of the caliper. The spring loaded action of the SRS plates also eliminates pad rattle and dampens the vibration harmonics that contribute to pad squeal. Internal fluid ports eliminate all potential problems associated with external tubes. Four corner bleed screws assure simple and effective air evacuation from both sides regardless of mounting position. The top loaded brake pads can be easily serviced without caliper removal. Kits include calipers with Wilwood's signature and a high luster black anodized finish.
SRP Discs with Integral Hats

Caliper kits in this group use a 12.19" diameter iron rotor with an integral mount hat. These discs generate big stopping power and the iron hats house the internal parking brake shoes. Vented discs are 0.81" thick with internal vanes that provide additional cooling capacity for heavier vehicles or competition applications. Rotors are available with either the SRP drilled and slotted or HP smooth face preparation. For custom, show, and performance sport driving applications, SRP rotor kits offer the enhanced look and performance of a specially engineered directional cross-drill and face slot pattern. The venting and cleaning action of the holes and slots will reduce pad glaze, dissipate surface heat, and minimize irregular brake pad build-up on the rotor faces. The results are smoother engagement with improved consistency and response from the pads. Each SRP rotor is silver zinc washed to prevent rust on the areas of the rotor not kept clean by pad contact.
PolyMatrix Brake Pads

PolyMatrix brake pads give fast response, high resistance to fade, long wear, and the low rotor abrasion that PolyMatrix is so well known for. Pad compounds are specifically selected for each application and are listed in the service parts guide for each kit.
Internal Parking Brake Assemblies

Mechanically actuated twin shoe systems are neatly hidden inside the hat section of the rotor. This method provides the best holding power without clutter or rattle. Parking brake cables are relocated close to the axle tube adding wheel clearance and reducing visual impact. Parking brake assemblies shipped with kits are pre-assembled for easy installation.

Caliper Brackets and Hardware

Aluminum caliper mount brackets with threaded steel inserts are lightweight and strong. The brackets are CNC machined for precise fit on each specific installation. Grade 8 quality or higher fasteners, washers, and alignment shims are included in each kit.

Click Here to view .pdf installation instructions
Kit will fit under 15" rims.