To ensure proper delivery of our email newsletters be sure to add list@spohn.net to your address book and/or white (safe) list. Do not reply to this email as it is an unmonitored account, feel free to email us with any questions or inquiries. Thank you for subscribing to our email newsletter!

---

Email Newsletter Subscriber Exclusive Discount! As a special bonus to our email newsletter subscribers you can take an extra 5% off any order placed before midnight Sunday 11/07/2010 by using Coupon Code: D5ENL1010 (Coupon code is valid for online and/or phone orders)


---
..Spohn Performance Launches Online Knowledgebase, FAQs & Support Center..

After many months of hard work we have officially launched the Spohn Performance Online Support Center.

Some of the features of our new online support center include:

* Search-able Knowledgebase (with suggested search) answers hundreds of frequently asked technical and customer service related questions. Advanced search allows you to search by category, vehicle type, etc.
* View and download all of our product installation instructions in .pdf format.
* Online message system makes it easy to email whatever department you need to contact. The message system will automatically show articles related to your message as you type, which usually provides you with an instant answer!
* The latest Spohn Performance news
* RSS feeds for all support center categories. Subscribe to know when new articles have been posted or edited.
* All articles list what vehicle(s) they relate to.
* All article pages have these features: Print friendly version, email article to a friend, leave comments under articles, subscribe to an article to get emailed if/when it is updated, favorite articles for easy access on the favorites page of the support center, save any article as a .pdf file, rate articles as helpful or not helpful and view a list of related articles underneath each article.
* A glossary provides the definitions of many commonly used terms. Any term listed in the glossary will be linked on any articles containing those words, just click the linked term to view the definition.
* Favorites page lets you favorite articles and easily find them by just clicking on the favorites tab.
* Support Center's front page lists Featured Articles, News, Most Popular Articles, Newest Articles and Most Popular Searches.


---
..Spohn Performance Launches "Deal of the Day"..

We have launched a new Deal of the Day special on www.spohn.net. Each and every day we deeply discount one item. It's random, and we don't take requests! So be sure to check our Deal of the Day page daily to see what the deal is each day. Better yet, why not Like Us on Facebook as we post the Deal of the Day to our Facebook wall daily, and if you're a follower you can easily see it each day in your Facebook news feed. We also post it every day to our Twitter stream, so you can follow us on Twitter as well!


---

* 2010-2011 Chevrolet Camaro Axles Upgraded to 1400 HP Rating: Our Extreme Duty Rear Axles for the 2010-2011 Camaro have been redesigned and updated to a 1400 HP rating. Check them out by clicking here! Did we mention the price dropped $250.00?

* New & More Powerful Website Search System: Our website at www.spohn.net has been upgraded with a new and much more powerful website search system. You now have two choices when searching, "Products" or "Site". A "Products" search will return results only from our online parts catalog. A "Site" search will return results from our entire domain, ie. Products, Blog, Support Center, etc. Try it out the next time you need information!

* Local Pick-Up Option Now Available Online: For our local customers who like to pick their orders up at our facility we now have a "Pick Up at Spohn" shipping option choice when ordering online, you can also choose your pick up date as well.

* Copy Shopping Cart to a Wishlist: Another new feature added to www.spohn.net is the ability to copy all of the items in your shopping cart to a wish list. Previously you could copy a wish list to your shopping cart, but not vice versa.

* Wire Transfer Payments for Online Orders: We now have a "Wire Transfer" payment option when ordering on www.spohn.net. This was requested by many of our overseas customers. If you choose this option we will email you all of the information you need to complete the wire transfer after we have received your order. For more information on our wire transfer payment policy click here.

* Social Sharing Tools: We have added an easy to use social sharing tool set to all of our product pages. These tools allow you to easily forward a page to a friend via email, print the page, share a "Like" on Facebook, tweet it to Twitter, etc. We hope you'll use these tools to spread the news about our quality products!

* Customer "Rides" Updated: We have been actively working through our backlog of customer ride pictures and posting them on the website's Customer Rides section and on our Facebook page as well. If you haven't checked them out lately then please take a look. We want your pictures as well, please send your submissions to rides@spohn.net and we'll get you up on the website and on our Facebook page which both receive thousands of visits every week!

* Front End Rebuild Kits Back In Stock: Our very popular front end rebuild kits for the 1982-1992 F-Body, 1978-1987 G-Body and 1982-1995 S-10 2WD are back in stock and ready for shipment. We had been out of forgings for a bit and couldn't build more, but we are all stocked up again and shipping them out daily!

* International Payments Policy Revision: Unfortunately, due to a recent rise in fraudulent credit card activity coming from various overseas areas we have had to revise our International Payments Policy. We are no longer accepting direct credit card payments from customers outside of the USA and Canada. If you do not live in the USA or Canada you can still order online or via the phone and use your credit card for payment, you just have to go through PayPal or Google Checkout to do so. You do not need a PayPal account, when you get to the PayPal checkout simply choose the credit card payment option and complete your order. We also accept Wire Transfer payments as well. This really doesn't effect anyone but the crooks and helps to keep our prices down. We hope you understand and appreciate your cooperation.


---
Part #C10-921: Pro-Series Drag Race Rear Anti-Roll Sway Bar
Application: 2010-2011 Chevrolet Camaro
Product Page: Click Here - Video Tour: Click Here



Part #C10-RSB-125: Competition 32mm Rear Sway Bar
Application: 2010-2011 Chevrolet Camaro
Product Page: Click Here




Part #C10-RSB-125: Competition 32mm Front & Rear Sway Bars Set
Application: 2010-2011 Chevrolet Camaro
Product Page: Click Here





Part #C10-POLY-1: Polyurethane Bushings for Rear Differential to Rear Cradle Mounts
Application: 2010-2011 Chevrolet Camaro & 2008-2009 Pontiac G8
Product Page: Click Here






Part #625G: Adjustable Rear Upper Control Arms with Polyurethane Bushings
Application: 1978-1987 GM G-Body with 1964-1972 GM A-Body 12 Bolt Rear End Swap
Product Page: Click Here - Video Tour: Click Here




Part #627G: Adjustable Rear Upper Control Arms with Del-Sphere Pivot Joints
Application: 1978-1987 GM G-Body with 1964-1972 GM A-Body 12 Bolt Rear End Swap
Product Page: Click Here - Video Tour: Click Here





Part #H-207: Adjustable Rear Lower Control Arms with Del-Sphere / Poly Combination
Application: 1971-1980 GM H-Body, Vega, Monza, etc.
Product Page: Click Here




Part #BJB-1: Replacement Rubber Ball Joint Boot
Application: Spohn or Moog Part #K6145T Lower Ball Joint
Product Page: Click Here



---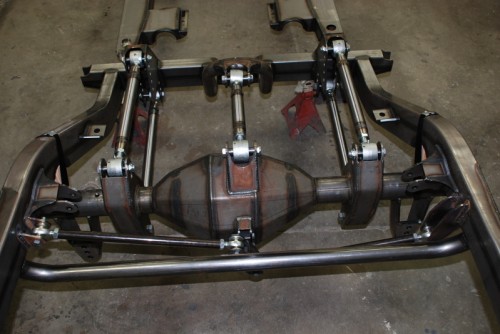 1969 Camaro's Combination 3 & 4 Link Rear Suspension is Powered by Spohn Del-Sphere Pivot Joints

When Art Morrison first approached us with the idea of the transforming combination 3 and 4 link rear suspension for our 1969 Camaro project, we loved the idea. And after I thought about it a bit longer, I called Matt Jones (their suspension engineer) at Morrison and told him to be sure and design the brackets of the new suspension to use Spohn Performance Del-Sphere pivot joints. Matt took some measurements and they were able to accommodate us... read the full article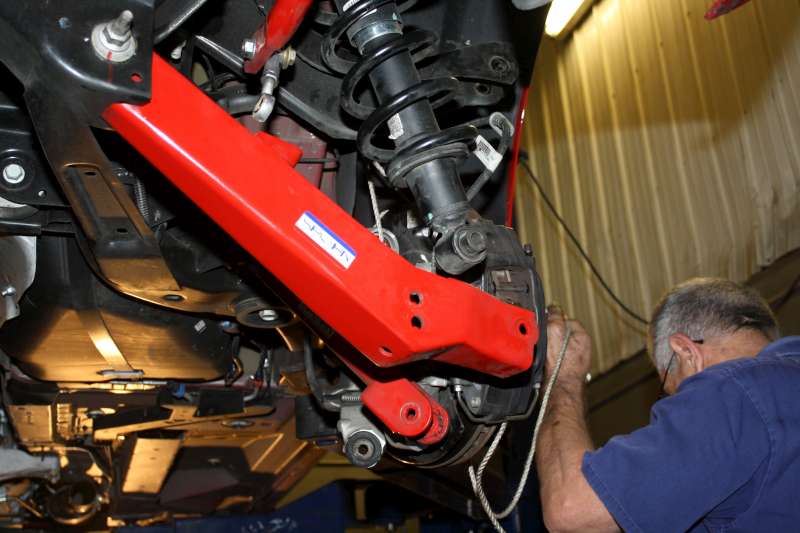 2010-2011 Camaro Rear Axles Extensive Installation Instructions and Pictures

We recently installed a set of these axles on our 2010 Camaro and documented the installation with very detailed installation instructions and step by step installation pictures....... read the full article




Fastest Street Car Magazine Installs Spohn Suspension on their 1966 Ford Galaxie Project Car ..... read the full article



StreetLegalTV.com: Al Marlows Unfair Advantage = Spohn Performance Suspension

Those of you who think that the 1/8 mile run is for babies, need to think that through again. Breaking into the 4 second club when running the eighth mile track isn't for the faint of heart. Cars that do blow through the 4 second barrier typically run mid-sevens on the long track..... read the full article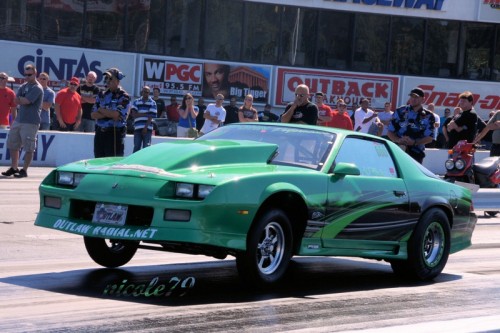 Is Al Marlow the Fastest Man on 275 Drag Radials? On Friday October 8, 2010 at Maryland International Raceway Al Marlow laid down a blistering pass of 4.84 at 150 MPH. The complete Spohn Performance suspension hanging under this beast had the 275 Hoosier drag radials digging out a 1.25 60′ time. How's that for traction on a small tire?
....... read the full article



StreetLegalTV.com: Project Grandpa Caprice Wagon Getting Ready For Testing Video

Yes, it's been a little while since we last brought you an update on Project Grandpa, our 1982 Caprice that is longing to see 11's and still be nimble enough to master the autocross track. Yes, our ambitions are high, and to be honest, saying Grandpa was a little weak in the knees would be like saying a Corvette is a little faster than the Prius – a huge understatement..... read the full article



Spohn Performance G-Body Tubular A-Arms Featured on RPM Media's Project Stress Relief

Spohn Performance's G-Body tubular front a-arms are featured on RPM Media's "Project Stress Relief". RPM Media is a premier high performance magazine publisher in Canada.
Every car needs a good solid foundation, and anyone who knows G-bodies knows that there are certainly some faults with the design of their frame and some weak points that need to be addressed with either using a big horsepower motor, or even turning it into a hopping low rider..... read the full article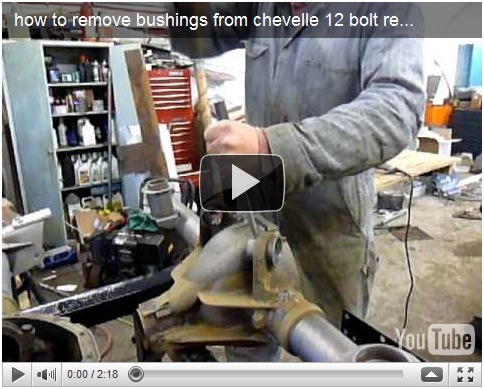 Video Series: How To Remove Rear Upper Control Arm Housing Bushings

We often get asked the "easiest way" to remove rear upper control arm rear end housing bushings from the rear end housing and these videos do an excellent job showing just that.
You'll note that these videos show you how to do a 1964-1972 GM A-Body Chevelle, but the same exact technique would apply on your 1979-2004 Ford Mustang, 1978-1987 GM G-Body, 1978-1996 GM B-Body, etc..... read the full article and watch the videos


---

Spohn Performance works really hard to service all of our customers from the daily driver all the way to the professional race teams. We are honored and feel privileged to be your #1 stop for all of your HIGH quality chassis, suspension, drivetrain and performance parts and components. Without your business, we would not exist. Thank you very much! As always, if you have any ideas for us, please send us an e-mail. We are always looking for input from our customers.

Sincerely,

Spohn Performance, Inc.
494 E Lincoln Ave
Myerstown, PA 17067
www.spohn.net

Email: Click here to email us
Tech: 1-888-365-6064 (8:30-4:30 Eastern, M-F)
Orders: 1-888-265-6064 (Open 24/7!)
International: 717-866-6033
Fax Line: 717-866-6065
Support: http://support.spohn.net





Privacy Policy | Past Newsletter Archive
© Copyright 2010 - Spohn Performance, Inc.