Moser Engineering - 12 Bolt - Housing Only - 1982-1992 GM F-Body: Camaro & Firebird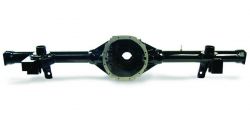 Click Image for Larger View
$1120.00
SKU #: Moser12-3-HO
Brand: Moser Engineering
Description
Application: 1982-1992 GM F-Body: Camaro & Firebird
If you have questions regarding rear ends and their options read the "Ordering A Rear End - The Master FAQ List" article in our Support Center.
Moser Engineering 12 Bolt Housing for the 1982-1992 F-Body Camaro & Firebird: If you're looking for just the 12 bolt housing then this is the package for you!
The newly cast nodular iron housing is a direct replacement 12 bolt rear end for the 1982-1992 F-Body Camaro and Firebird. The extremely durable housing unit has giant caps utilizing half inch Allen bolts and includes seamless steel axle tubes (3.00" o.d. x 0.250" wall) and CNC laser cut and formed stock style suspension mounts. Utilizing new housing ends adds to the simplicity and ease of installation, which is unparalleled in the industry.
Moser Engineering prides itself in manufacturing products of the highest quality, at an affordable price and in a short amount of time. Order one today and bolt in a bullet-proof 12 bolt rear end housing for your 1982-1992 F-Body Camaro and Firebird that will take a beating!
The standard set up includes:
12 bolt rear end housing with all stock style suspension mounts installed
3.00" o.d. x 0.250" wall seamless steel axle tubes
Chrome rear end cover (or optional aluminum girdle cover)
They are available with many options, please select the components you wish to have your rear end built with from the drop down option boxes. If you have any questions on the best set up for your application, email our tech department for assistance in making the right choices.
Fitment Notes:
1982-1992 F-Body rear drum brakes and 9 bolt rear disc brakes are not compatible and can't be used. 1982-1992 F-Body 10 bolt rear disc brakes will require modifications to the backing plates (drawing). 1993-1997 and 1998-2002 F-Body rear disc brakes, Moser's drum brake kit, and Wilwood rear disc brakes will install with no modifications.
To install a stock style rear sway bar, you will need to choose the sway bar installation kit option.
Shipping: The Moser Engineering 12 bolt rear end housing ships via UPS Ground.