Moser Engineering - Ford 9" - Housing & Axle Package - 1993-2002 GM F-Body: Camaro & Firebird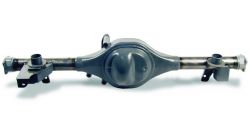 Click Image for Larger View
$1195.00
SKU #: Moser9-4-HA
Brand: Moser Engineering
Description

Application: 1993-2002 GM F-Body: Camaro & Firebird
If you have questions regarding rear ends and their options read the "Ordering A Rear End - The Master FAQ List" article in our Support Center.
Moser Engineering Ford 9" Bolt-In Housing and Axles Package for the 1993-2002 GM F-Body Camaro and Firebird: If you're looking for everything but the center section then this is the package for you!
The Moser Engineering Ford 9" rear end for the 1993-2002 F-Body Camaro and Firebird is for those looking for the ultimate in "bullet-proof" performance and longevity! All Moser Engineering bolt-in Ford 9" housings are made with new heavy duty housing cores, seamless steel axle tubes (3.00" o.d. x 0.250" wall) and new CNC laser cut suspension mounting brackets.
The Moser Ford 9" rear end is 100% bolt in compatible for your 1993-2002 F-Body Camaro and Firebird. It includes all stock style suspension mounts installed on the housing for your panhard bar, rear lower control arms, shocks and the torque arm.
The standard set up includes:
Housing with all stock style suspension brackets installed
Custom alloy axles (up to 40 spline)
Wheel bearings
Wheel studs
Retainer plates
Powder coating is available

They are available with many options, please select the components you wish to have your rear end built with from the drop down option boxes. If you have any questions on the best set up for your application, email our tech department for assistance in making the right choices.
ABS Type: This package does not include the ABS components for the differential. We ask the ABS type because 3 channel ABS requires a tapped hole on top of the center section for the ABS sensor so we need to supply the correct housing to match your ABS type. The ABS reluctor rings can be installed onto the axles for 4 channel ABS applications.
Fitment Notes: To install a stock style rear sway bar, you will need to choose the sway bar installation kit option.
Shipping: The Moser Ford 9" rear end housing and axles package ships via UPS Ground.