Adjustable Camber Bolts - Front Lower Control Arms - 2010-2015 Chevrolet Camaro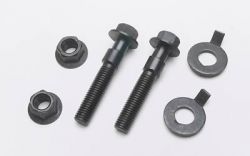 Click Image for Larger View
$39.95
SKU #: C10-Camber1
Brand: Spohn Performance
Description

Application: 2010-2015 Chevrolet Camaro
Our 2 degree camber bolts are used for adjusting the camber with stock and/or aftermarket front control arms. When lowered 1.0" or more the car will develop negative camber resulting in premature tire wear.
You can adjust +/- 2 degrees of camber with one pair of bolts. For even more additional front camber adjustment see our strut to spindle camber bolts by clicking here.

Priced per Pair -- Qty. 1 = 1 Pair.