Tubular K-Member / A-Arms / Coil-Over Package - SBC / BBC / LT1 / 3.8L V-6 with Pinto Manual Rack Mounts - 1982-1992 GM F-Body: Camaro & Firebird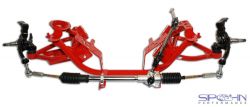 Click Image for Larger View
$1429.00
SKU #: 703ACO-MRM
Brand: Spohn Performance
This product requires an additional $10.00 handling fee per item when shipped flat rate due to its large size and/or weight.
Description

Application: 1982-1992 GM F-Body: Camaro & Firebird
This package consists of the Spohn tubular k-member for the 1982-1992 F-Body Camaro and Firebird with Small Block Chevy, Big Block Chevy, LT1 and 3.8L V-6 engines with Pinto Manual Rack and Pinion steering mounts (click here), tubular a-arms (click here), a front coil-over kit (Pro-Drag, Pro-Tour, Pro-Drag with QA1 Struts or Pro-Tour with QA1 Struts), and you can optionally include our complete Pinto manual steering rack kit.

Click on the preceding links to view the details of each item, then come back here and order the entire system in a package deal that saves you $85.00 over ordering each item independently!

Shipping Notice: Due to the variety of options we offer, k-members are built to order - Please allow 1-10 business days for shipment.